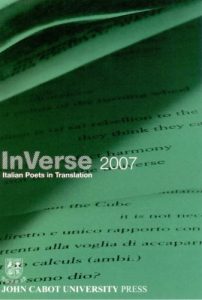 The InVerse anthology is the outcome of a project that began as a reading of Italian poets at John Cabot University in Rome in the spring of 2005. At the root of the project was the desire to introduce English-speaking audiences and readers to contemporary Italian poetry, since many interesting authors are as yet quite unknown internationally. Every spring the editors invite the poets themselves to read their texts in Italian, while the audience reads the Italian translations. This anthology collects, with facing translations, all the poems read during the two evenings of InVerse 2007.
In addition to preeminent poets such as Giovanni Raboni, Milo De Angelis, Patrizia Valduga, Nanni Balestrini, Rosaria Lo Russo, and Stefano Dal Bianco, young poets like Anna Laura Longo, Lorenzo Carlucci, Luigia Sorrentino, and Mia Lecomte were the guest poets of this edition.
About the Editors
Brunella Antomarini teaches aesthetics and contemporary philosophy at John Cabot University.
Berenice Cocciolillo teaches Italian language at John Cabot University, where she is the coordinator of the Italian language program.
Rosa Filardi teaches Italian language, culture, and theater at John Cabot University.