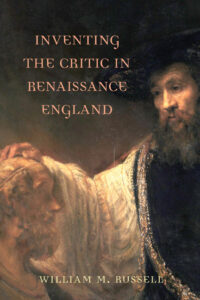 Author
William M. Russell
Hardback
September 2020 • ISBN 9781644531907 • $85.00
Paperback
September 2020 • ISBN 9781644531914 • $49.50
* E-Book Available
Order Online
The turn of the seventeenth century was an important moment in the history of English criticism. In a series of pioneering works of rhetoric and poetics, writers such as Philip Sidney, George Puttenham, and Ben Jonson laid the foundations of critical discourse in English, and the English word "critic" began, for the first time, to suggest expertise in literary judgment. Yet the conspicuously ambivalent attitude of these critics toward criticism—and the persistent fear that they would be misunderstood, marginalized, scapegoated, or otherwise "branded with the dignity of a critic"—suggests that the position of the critic in this period was uncertain. In Inventing the Critic in Renaissance England, William Russell reveals that the critics of the English Renaissance did not passively absorb their practice from Continental and classical sources but actively invented it in response to a confluence of social and intellectual factors.
About the Author 
William M. Russell is Associate Professor of English at the College of Charleston.
Reviews of 'Inventing the Critic in Renaissance England'
"
Inventing the Critic in Renaissance England is an important account of the first significant period of literary criticism in the English language, and any subsequent account of the origins of English criticism will need to take account of it. One bonus of this account of early English criticism is its familiarity with classical as well as Continental criticism. Recent generations of Renaissance scholars working in English have lost some of the contact with these important intertexts that were once taken for granted as keystones for the origins of English criticism. Russell's book helps to redress this lacuna of scholarship without, however, getting lost in erudition. That is, he does not simply return to the history of ideas. He is interested in the intersection between the history of ideas and the scene of critical judgment in all of its messiness and conflict.
"
- Kevin Pask, Concordia University, author of The Emergence of the English Author: Scripting the Life of the Poet in Early Modern England