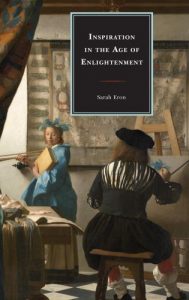 Author
Sarah Eron
Hardback
March 2014 • ISBN 978-1611494990 • $104.00
Paperback
March 2017 • ISBN 978-1611496499 • $48.99
* E-Book Available
Order Online
Inspiration in the Age of Enlightenment reconsiders theories of apostrophe and poetic authority to argue that the Augustan age created a new form of inspiration, one that not only changed the relationship of literary production to authority in the modern period but also crucially contributes to defining the movement of secularization in literature from the Renaissance to Romanticism. Seeking to redefine what we mean by secularization in the early stages of modernity, Eron argues that secularization's link to enthusiasm, or inspiration, often associated with Romanticism, begins in the imaginative literature of the early eighteenth century. If Romantic enthusiasm has been described through the rhetoric of transport, or "unworlding," then Augustan invocation appears more akin to a process of "worlding" in its central aim to appeal to the social other as a function of the eighteenth-century belief in a literary public sphere.
By reformulating the passive structure of ancient invocation and subjecting it to the more dialogical methods of modern apostrophe and address, authors such as the Third Earl of Shaftesbury, Alexander Pope, Henry Fielding, and Anna Laetitia Barbauld formally revise inspiration in a way that generates a new and distinctive representation of the author. In this context, inspiration becomes a social gesture—an apostrophe to a friend or judging spectator or an allusion to the mental or aesthetic faculties of the author himself, his genius. Articulating this struggle toward modernity at its inception, this book examines modern authority at the moment of its extraordinariness, when it was still tied to the creative energies of inspiration, to the revelatory powers that marked the awakening of a new age, an era and an ethos of Enlightenment.
About the Author
Sarah Eron is assistant professor of English at the University of Rhode Island.