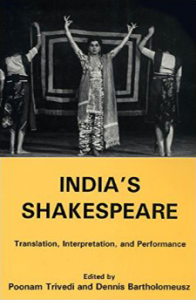 Editor(s)
Poonam Trevedi and Dennis Bartholomeusz
Hardback
March 2005 • ISBN 978-1611492613 • $100.00
Order Online
This is a collection on the diverse aspects of the interaction between Shakespeare and India, a process embedded in the contradictions of colonialism—a matrix of simultaneous submission and resistance. The essays, grouped around the key issues of translation, interpretation, and performance, deal with how the plays were taught, translated, and adapted, as well as the literary, social, and political implications of this absorption into the cultural fabric of India. They also look at the other side, what "India" meant to Shakespeare. Further, they document how the performance of Shakespeare both colonized and catalyzed Indian theater being staged in English in schools, in translation in various parts of the country, through acculturation into indigenous theater forms and Hindi cinema. The book highlights, and thus rereads, not just one of the longest and most widespread interactions between a Western author and the East, but also part of the colonial and postcolonial history of India.
About the Editors
Poonam Trivedi is a Reader in English at Indraprastha College, University of Delhi.
Now retired, Dennis Bartholomeusz was Reader in English literature at Monash University in Melbourne.