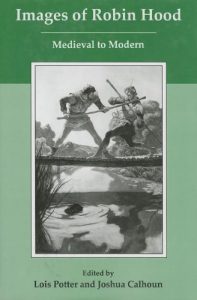 Editor(s)
Lois Potter and Joshua Calhoun
Hardback
September 2008 • ISBN 978-1611490756 • $97.00
Order Online
This collection explores the rich literary and visual origins and afterlives of the popular legend. It examines Robin's portrayal as outlaw hero and the significance of his traditional setting in the "merry greenwood," both in England and in the Brandywine Valley that became the Sherwood Forest of illustrators Howard Pyle and N.C. Wyeth. Complemented by thirty black-and-white illustrations and six color plates, the varied essays in this collection should deepen and enrich the study of a figure of seemingly endless variety. Through the analysis of various "texts"—May games, ballads, broadsides, legal archives, operettas, illustrated children's book, English theater, Chinese outlaw fiction, and Japanese Kabuki drama—contributors illuminate the many ways in which the traditional images, and those of analogous legends, have been produced and reproduced across cultures and times.
About the Editors
Lois Potter is Ned B. Allen Professor of English at the University of Delaware.
Joshua Calhoun is completing a PhD at the University of Delaware.