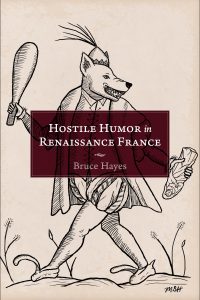 Author
Bruce Hayes
Hardback
April 2020 • ISBN 9781644531778 • $65.00
Paperback
April 2020 • ISBN 9781644531785 • $32.50
* E-Book Available
Order Online
In sixteenth-century France, the level of jokes, irony, and ridicule found in pamphlets and plays became aggressively hostile. In Hostile Humor in Renaissance France, Bruce Hayes investigates this period leading up to the French Wars of Religion, when a deliberately harmful and destructive form of satire appeared.
This study examines both pamphlets and plays to show how this new form of humor emerged that attacked religious practices and people in ways that forever changed the nature of satire and religious debate in France. Hayes explores this phenomenon in the context of the Catholic and Protestant conflict to reveal new insights about the society that both exploited and vilified this kind of satire.
About the Author
Bruce Hayes is Associate Professor of French and Chair of the Department of French and Italian at the University of Kansas.
Reviews of 'Hostile Humor in Renaissance France'
"
Bruce Hayes not only places satires in the context of a chain of historical events but also argues for their historical life, agency, and function, with the necessary close readings that allow readers better to understand these fairly obscure texts. The result is a clear and lively discussion of a tense social milieu through some biting literary texts and performances. This is an original contribution to the fields of French early modern literature and culture and the history of the Reformation.
"
- Antonia Szabari, University of Southern California, author of Less Rightly Said: Scandals and Readers in Sixteenth-Century France
"
For scholars who would like to delve into the scientific marvel in relation to the Gothic and the fantastic in a global report of the literature, this volume is an excellent starting point. Because of its cutouts, and its numerous bibliographical references, and its index, this volume can also conveniently serve as a source of research for a doctoral course focusing on the Gothic genre as part of a seminar on French literature or literature comparative, or a resource for instructors wishing to build a course based on a spectrum of literary genres to be determined for third or fourth year teaching.
"
- Lucy Rayfield, University of Oxford
"
In a thought-provoking conclusion, Hayes argues persuasively for the importance of this little-studied field of French Renaissance letters. This is a work for those interested in the history and/or literature of Renaissance France, and for those who study satire and humor. Readers unfamiliar with the works under discussion will appreciate the numerous citations, provided in French and English translation, and the generous provision of contextualizing information—material that makes this study accessible to nonspecialists.
"
- D. L. Boudreau, Mercyhurst University