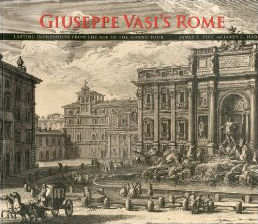 Author
James T. Tice and James G. Harper
Paperback
November 2010 • ISBN 978-0871142979 • $50.99
Order Online
Giuseppe Vasi's Rome: Lasting Impressions from the Age of the Grand Tour serves as the catalogue of the exhibition of the same name, organized by the Jordan Schnitzer Museum of Art at the University of Oregon and curated by Professors Harper and Tice. On view in Eugene, OR, from September 25 through January 2, 2010, the exhibition will also be shown at the Princeton University Art Museum in spring 2011. In a set of eight scholarly essays and more than one hundred catalogue entries and images by Vasi, his predecessors and his contemporaries, this richly illustrated volume examines the eighteenth-century printmaker Giuseppe Vasi and his world. Subject areas addressed include printmaking, patronage networks, cartography, contemporary architecture, early tourism and the Grand Tour, social history, the festival life of the papal city, and Vasi's complex relationship with his student, Piranesi. The publication is a comprehensive treatment of the artist and his major works, the first ever in the English language, while also elucidating the political, social, and artistic worlds in which Vasi moved.
About the Authors
James G. Harper is Associate Professor and Director of Undergraduate Studies at the University of Oregon.
James T. Tice is Professor of Architecture at the University of Oregon and is a practicing architect and urban designer.