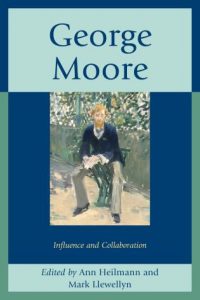 Editor(s)
Ann Heilmann and Mark Llewellyn
Contributor(s)
Kirsti Bohata, Michel Brunet, Adrian Frazier, Elizabeth Grubgeld, Anna Gruetzner Robins, Jane Jordan, María Elena Jaime de Pablos, Stoddard Martin, Katherine Mullin, Mary Pierse and Nathalie Saudo-Welby
Hardback
August 2014 • ISBN 978-1611494327 • $104.00
Paperback
July 2016 • ISBN 978-1611495331 • $46.99
* E-Book Available
Order Online
"Nearly every major figure of his era," writes his biographer Adrian Frazier, "worked with Moore, tangled with Moore, took his impression from, or left it on, George Moore." The Anglo-Irish novelist George Moore (1852–1933) espoused multiple identities. An agent provocateur whether as an art critic, novelist, short fiction writer or memoirist, always probing and provocative, often deliberately controversial, the personality at the core of this book invented himself as he reinvented his contemporary world. Moore's key role—as observer-participant and as satirist—within many literary and aesthetic movements at the end of the Victorian period and into the twentieth century owed considerably to the structures and manners of collaboration that he embraced. This book throws into relief the multiple ways in which Moore's work can serve as a counterbalance to established understandings of late nineteenth and early twentieth-century literary aesthetics both through innovative scholarly readings of Moore's work and through illustrative case studies of Moore's collaborative practice by making available, for the first time, two manuscript plays he co-authored with Pearl Craigie (John Oliver Hobbes) in 1894. It is this collaborative practice in conjunction with his cosmopolitan outlook that turned Moore into a key player in the fin-de-siècle formation of an international aesthetic community.
This book explores the full range of Moore's collaborations and cultural encounters: from 1870s Paris art exhibitions to turn-of-the-century Dublin and London; from gossip to the culture of the barmaid; from the worship of Balzac to the fraught engagement with Yeats; from music to Celtic cultural translation. Moore's reputation as a collaborator with the most significant artistic individuals of his time in Britain, Ireland and France in particular, but also in Europe more widely, provides a rich exposition of modes of exchange and influence in the period, and a unique and distinctive perspective on Moore himself.
About the Editors
Ann Heilmann is Professor of English literature at Cardiff University.
Mark Llewellyn is Director of Research at the Arts and Humanities Research Council.