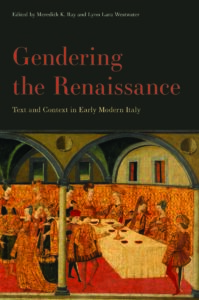 Editor(s)
Meredith K. Ray, Lynn Lara Westwater
Hardback
April 2023 • ISBN 9781644533055 • $120.00
Paperback
April 2023 • ISBN 9781644533048 • $44.95
* E-Book Available
Order Online
Series
The Early Modern Exchange
The essays in this volume revisit the Italian Renaissance to rethink spaces thought to be defined and certain: from the social spaces of convent, court, or home, to the literary spaces of established genres such as religious plays or epic poetry. Repopulating these spaces with the women who occupied them but have often been elided in the historical record, the essays also remind us to ask what might obscure our view of texts and archives, what has remained marginal in the texts and contexts of early modern Italy and why. The contributors, suggesting new ways of interrogating gendered discourses of genre, identities, and sanctity, offer a complex picture of gender in early modern Italian literature and culture. Read in dialogue with one another, their pieces provide a fascinating survey of currents in gender studies and early modern Italian studies and point to exciting future directions in these fields.
About the Editors
Meredith K. Ray is Elias Ahuja Professor of Italian at the University of Delaware. Her books include Margherita Sarrocchi's Letters to Galileo: Astronomy, Astrology, and Poetics in Seventeenth-Century Italy (2016), Daughters of Alchemy: Women and Scientific Culture in Early Modern Italy (2015), and Writing Gender in Women's Letter Collections of the Italian Renaissance (2009).
Lynn Lara Westwater is Professor of Italian at The George Washington University. Her books include Sarra Copia Sulam: A Salonnière and the Press in Counter-Reformation Venice (2020); with Meredith K. Ray, critical editions of Arcangela Tarabotti's Letters Familiar and Formal (2012) and Convent Paradise (2020); and with Diana Robin, a critical edition of Ippolita Sforza's writing titled Duchess and Hostage in Renaissance Naples: Letters and Orations (2017).