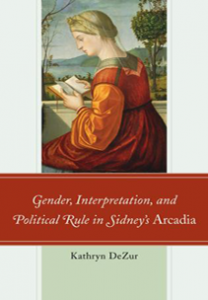 Author
Kathryn DeZur
Hardback
December 2012 • ISBN 978-1611494181 • $86.00
Paperback
June 2014 • ISBN 978-1611495225 • $47.99
* E-Book Available
Order Online
Gender, Interpretation, and Political Rule in Sidney's Arcadia studies cultural ideologies regarding gender and monarchy in early modern England by examining transformations of a single text, Sir Philip Sidney's Arcadia, in their historical contexts. It reveals changing tensions in the ideological struggles over queenship, especially with respect to cultural debates focused on anxieties about gendered reception and interpretation of persuasive rhetoric. The cultural shift between about 1550 and 1650 regarding gendered interpretation and political rule—a shift that was by no means complete or homogenous—reflects the changing position of women and their relationship to language within early modern domestic and political ideological discourses.
The book begins by investigating primary cultural, political, and historical sources in order to provide a cultural scaffolding helpful to the interpretation of Sidney's enormously popular work. These sources include conduct manuals, gynecocratic debates, paintings, poems, diaries, pamphlets, and letters. Gender, Interpretation, and Political Rule then considers the initial version of the Arcadia (the Old Arcadia ) Sidney authored and argues that Sidney's involvement in the marriage debate regarding the Duke of Anjou's courtship of Elizabeth I in the late 1570's shaped his representations of female characters and their questionable ability to interpret persuasive rhetoric. Next, the book turns to Sidney's expanded and revised version, authorized and published by his sister the Countess of Pembroke Mary Sidney Herbert (the New Arcadia ). The New Arcadia ultimately provides a more positive representation of women readers and rulers and reveals a shift in cultural understandings of women's relationship to the persuasive rhetoric that both describes and enacts political power and authority. The penultimate chapter examines paradigms of active reading and their political consequences in Lady Mary Wroth's The Countess of Montgomery's Urania that demonstrate a need for well-balanced identification with characters. Finally, this book focuses on a little-studied seventeenth-century continuation of Sidney's work by a young woman, Anna Weamys, who asserts her authority as an interpreter of Sidney's Arcadia and in the process creates a political commentary about the legitimacy of female authority and influence just after the English Civil War.
About the Author
Kathryn DeZur is professor of English at the State University of New York College of Technology at Delhi.