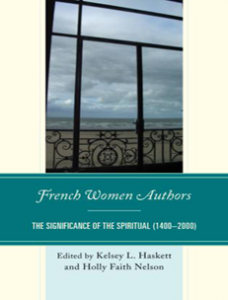 Editor(s)
Kelsey L. Haskett and Holly Faith Nelson
Hardback
October 2012 • ISBN 978-1-64453-087-0 • $102.95
Paperback
October 2012 • ISBN 978-1-64453-088-7 • $51.00
* E-Book Available
Order Online
French Women Authors examines the importance afforded the spiritual in the lives and works of French women authors over the centuries, thereby highlighting both the significance of spiritually informed writings in French literature in general, as well as the specific contribution made by women writers. Eleven different authors have been selected for this collection, representing major literary periods from the medieval to the (post)modern. Each author is examined in the light of a Christian worldview, creating an approach which both validates and interrogates the spiritual dimension of the works under consideration. At the same time, the book as a whole presents a broad perspective on French women writers, showing how they reflect or stand in opposition to their times. The chronological order of the chapters reveals an evolution in the modes of spirituality expressed by these authors and in the role of spiritual belief or religion in French society over time. From the overwhelmingly Christian culture of the Middle Ages and pre-Enlightenment France to the wide diversity prevalent in (post)modern times, including the rise of Islam within French borders, a radical shift has permeated French society, a shift that is reflected in the writers chosen for this book. Moreover, the sensitivity of women writers to the individual side of spiritual life, in contrast with the practices of organized religion, also emerges as a major trend in this book, with women often being seen as a voice for social and religious change, or for a more meaningful, personal faith. Lastly, despite a blatant rejection of God and religion, spiritual threads still run through the works of one of France's most celebrated contemporary writers (Marguerite Duras), whose cry for an absolute in the midst of a spiritual vacuum only reiterates the quest for transcendence or for some form of spiritual expression, as voiced in the works of her female predecessors and contemporaries in France, and as demonstrated in this book.
About the Editors
Kelsey L. Haskett is Associate Professor of French and Chair of the Modern Language Department at Trinity Western University.
Holly Faith Nelson is Professor and Chair of English and Co-Director of the Gender Studies Institute at Trinity Western University.