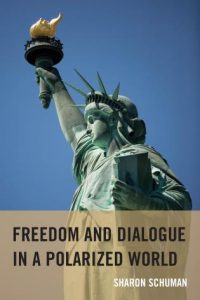 Author
Sharon Schuman
Hardback
December 2013 • ISBN 978-1611494624 • $97.00
Paperback
February 2016 • ISBN 978-1611496024 • $43.99
* E-Book Available
Order Online
Freedom and Dialogue in a Polarized World argues that our most cherished ideas about freedom—being left alone to do as we please, or uncovering the truth—have failed us. They promote the polarized thinking that blights our world. Rooted in literature, political theory and Mikhail Bakhtin's theories of language, this book introduces a new concept: dialogic freedom. This concept combats polarization by inspiring us to feel freer the better able we are to see from the perspectives of others.
To say that freedom is dialogic is to apply to it an idea about language. If you and I are talking, I anticipate from you a response that could be friendly, hostile, or indifferent, and this awareness helps determine what I say. If you look bored or give me a blank stare, I might not say anything at all. In this sense language is dialogic. The same can be said of freedom. Our decisions take into account the voices of others to which we feel answerable, and these voices coauthor our choices.
In today's polarized world, prevailing concepts of freedom as autonomy and enlightenment have encouraged us to take refuge in echo chambers among the like-minded. Whether the subject is abortion, terrorism, or gun control, these concepts encourage us to shut out the voices of those who dare to disagree. We need a new way to think about freedom. Freedom and Dialogue in a Polarized World presents riveting moments of choice from Homer's Iliad, Dante's Inferno, Shakespeare's Merchant of Venice, Milton's Paradise Lost, Melville's "Benito Cereno," Dostoevsky's The Brothers Karamazov, Kafka's "In the Penal Colony," and Morrison's Beloved, in order to advocate reading for and with dialogic freedom. It ends with a practical application to the debate about abortion and an invitation to rethink other polarizing issues.
About the Author
Sharon Schuman taught literature and interdisciplinary seminars at Deep Springs College, Willamette University, University of Oregon, and Oregon State University.