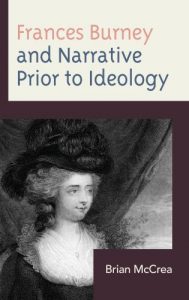 Author
Brian McCrea
Hardback
September 2013 • ISBN 978-1-64453-069-6 • $79.00
Paperback
September 2013 • ISBN 978-1-64453-070-2 • $42.00
* E-Book Available
Order Online
Frances Burney and Narrative Prior to Ideology works between Burney's Journals and Letters and her fiction more thoroughly than any study of her in the past twenty-five years. By doing so, it offers significant reinterpretations of Burney's four novels: Evelina, Cecilia, Camilla, and The Wanderer. It describes Burney's eluding the major modern–isms through which critics have tried to read her: Feminism (with its "gendering" of beauty and reversal of gender roles); Capitalism and its Marxist critique (here the details of Burney's housekeeping become important); Professionalism (as a response to status inconsistency and class conflict); and Ian Watt's "Formal Realism" (Burney perhaps saved the novel from a sharp decline it suffered in the 1770s, even as she tried to distance herself from the genre).
Burney's most successful writing appeared before the coining of "ideology". But her standing "prior to ideology" is not a matter of chronological accident. Rather, she quietly but forcefully resisted shared explanations—domesticity as model for household management, debt as basis for family finance, professional status as a means to social confidence, the novel as the dominant literary genre—that became popular during her long and eventful life.
Frederic Jameson has described Paul de Man, "in private conversation," claiming, "Marxism . . . has no way of understanding the eighteenth century." Frances Burney and Narrative Prior to Ideology conjoins Burney's "eighteenth-centuryness" with her modernity.
About the Author
Brian McCrea is Professor Emeritus of English at the University of Florida, Gainesville, Florida and Visiting Lecturer in English at Flagler College, St. Augustine, Florida.
Reviews of 'Frances Burney and Narrative Prior to Ideology'
"
This quirky, personal, deeply satisfying book seeks to rescue Burney from the fashionable critical "-isms" that have recently clouded, rather than elucidated, her accomplishment. […] Criticism written against the grain has rarely been so accessible or so much fun. Summing Up: Highly recommended.
"
- Choice