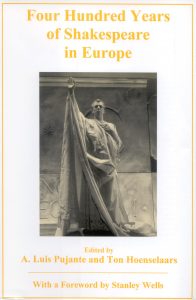 Editor(s)
A. Luis Pujante and Ton Hoenselaars
Hardback
May 2003 • ISBN 978-1611492231 • $97.00
Order Online
Four Hundred Years of Shakespeare in Europe offers a wide range of essays that capture the unprecedented current boom in the study of "Shakespeare in Europe." The various contributions cover three basic areas in the history of Shakespearean reception on the European continent and in Britain: translations, productions, and appropriations in more general terms. The essays address a variety of themes, including the developing reception of Shakespeare's works in Europe, as well as the changing status of Shakespeare, also as a fictional character. The practice of Shakespearean translation is discussed, but also translation as a neglected instance of "alternative Shakespeares." The volume's editors provide a survey of the ways in which academic interest in European Shakespeare has developed over the last two decades. This volume, with contributors from both non-Anglophone and English-speaking Shakespeareans, comes with a foreword by Stanley Wells.
About the Editors
A. Luis Pujante is Professor of English at the University of Murcia (Spain).
Ton Hoenselaars is Associate Professor of English at Utrecht University, and chairman of the Shakespeare Society of the Low Countries.