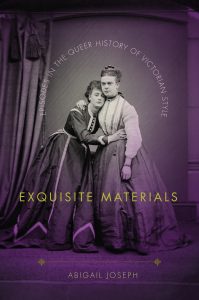 Author
Abigail Joseph
Hardback
November 2019 • ISBN 978-1-64453-168-6 • $79.50
Paperback
November 2019 • ISBN 978-1-64453-169-3 • $39.50
* E-Book Available
Order Online
Exquisite Materials explores the connections between gay subjects, material objects, and the social and aesthetic landscapes in which they circulated. Each of the book's four chapters takes up as a case study a figure or set of figures whose life and work dramatize different aspects of the unique queer relationship to materiality and style. These diverse episodes converge around the contention that paying attention to the multitudinous objects of the Victorian world-and to the social practices surrounding them-reveals the boundaries and influences of queer forms of identity and aesthetic sensibility that emerged in the mid-nineteenth century and have remained recognizable up to our own moment. In the cases that author Abigail Joseph examines, objects become unexpected sites of queer community and desire.
Reviews of 'Exquisite Materials: Episodes in the Queer History of Victorian Style'
"
I strongly believe that readers will benefit from and enjoy reading this subtle, eccentric book. Joseph's lively style makes this potentially important addition to queer studies, aesthetics, and material culture studies in a delightful read. By gathering familiar figures with relatively unknown ones under the common rubric of exquisite materials, Joseph has clarified popular, even cliched and banal, observations about queer sensibilities, lending them vital and solid cultural analysis.
"
- Adrienne Munich, Stony Brook University, author of Queen Victoria's Secrets