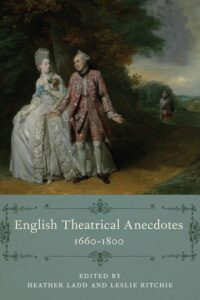 Editor(s)
Heather Ladd
Editor(s)
Leslie Ritchie
Hardback
June 2022 • ISBN 9781644532614 • $120.00
Paperback
June 2022 • ISBN 9781644532607 • $34.95
* E-Book Available
Order Online
Series
Performing Celebrity
The essays in English Theatrical Anecdotes, 1660-1800 explore the theatrical anecdote's role in the construction of stage fame in England's emergent celebrity culture during the long eighteenth century, as well as the challenges of employing such anecdotes in theatre scholarship today. This collection showcases scholarship that complicates the theatrical anecdote and shows its many sides and applications beyond the expected comic punch. Discussing anecdotal narratives about theatre people as producing, maintaining, and sometimes toppling individual fame, this book crucially investigates a key mechanism of celebrity in the long eighteenth century that reaches into the nineteenth century and beyond. The anecdote erases boundaries between public and private and fictionalizes the individual in ways deeply familiar to twenty-first century celebrity culture.
About the Editors
Heather Ladd is a former Associate Professor in the Department of English at the University of Lethbridge in Alberta, Canada. She is the co-editor of this collection and has published on many eighteenth-century writers, including Charlotte Smith, Ann Radcliffe, John Gay, Thomas D'Urfey, and Elizabeth Craven. She is now located in Vancouver, British Columbia.
Leslie Ritchie is a Professor of English at Queen's University in Kingston, Ontario. She is the author of David Garrick and the Mediation of Celebrity and Women Writing Music in Late Eighteenth-Century England: Social Harmony in Literature and Performance.