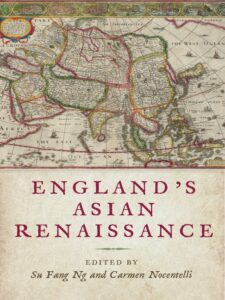 Editor(s)
Su Fang Ng
Editor(s)
Carmen Nocentelli
Hardback
December 2021 • ISBN 9781644532416 • $120.00
Paperback
December 2021 • ISBN 9781644532409 • $29.95
* E-Book Available
Order Online
Series
The Early Modern Exchange
England's Asian Renaissance explores how Asian knowledges, narratives, and customs inflected early modern English literature. Just as Asian imports changed England's tastes and enriched the English language, Eastern themes, characters, and motifs helped shape the country's culture and contributed to its national identity. Questioning long-standing dichotomies between East and West and embracing a capacious understanding of translatio as geographic movement, linquistic transformation, and cultural grafting, the collection gives pride of place to convergence, approximation, and hybridity, thus underscoring the radical mobility of early modern culture. In so doing, England's Asian Renaissance also moves away from entrenched narratives of Western cultural sovereignty to think anew England's debts to Asia.
Published by the University of Delaware Press. Distributed worldwide by Rutgers University Press.
About the Editors
Su Fang Ng is a Professor of English and the Clifford A. Cutchins III Professor at Virginia Tech in Blacksburg. She is the author of Literature and the Politics of Family in Seventeenth-Century England and Alexander the Great from Britain to Southeast Asia: Peripheral Empires in the Global Renaissance.
Carmen Nocentelli is an Associate Professor of English and Comparative Literature at the University of New Mexico in Albuquerque. She is the author of Empires of Love: Europe, Asia, and the Making of Early Modern Identity, which won the Aldo and Jeanne Scaglione Prize in Comparative Literary Studies from the Modern Language Association and the Roland H. Bainton Prize from the Sixteenth Century Society and Conference.