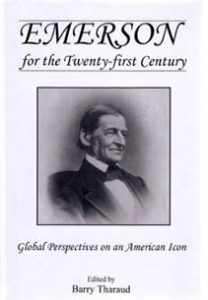 Highly recommended by Choice, April 2011.

Editor(s)
Barry Tharaud
Hardback
June 2010 • ISBN 978-1611491456 • $138.00
Paperback
March 2013 • ISBN 978-1611494648 • $66.99
Order Online
While previous collections of Emerson essays have tended to be a sort of "stock-taking" or "retrospective" look at Emerson scholarship, the present collection, divided into four sections, follows a more "prospective" trajectory for Emerson studies based on the recent increase in global perspectives in nearly all fields of humanistic studies. The first section of essays is about the author's transatlantic and wider connections and the circulation of his influence to thinkers such as Nietzsche. The next two sections register Emerson's encounters with the global worlds of science and philosophy, from his early encounters with science in France to his meeting with the leading scientists of the day like Faraday during his English lecture tour of 1848. Finally, in the extremely rich concluding section, Emerson's engaging with the major social problem of his time entitles him to be considered as not just "cosmopolitan," but even "militant" in his embrace of the violent abolitionist John Brown, which resonates with violent protesters like George Jackson during the civil rights and Vietnam War era in U.S. history. No serious Emerson collection should be without this book.
Barry Tharaud is the Chair of the Department of English Language and Literature at Fatih University, Istanbul.