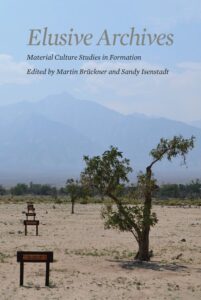 Editor(s)
Martin Brückner
Editor(s)
Sandy Isenstadt
Hardback
August 2021 • ISBN 978-1-64453-203-4 • $102.95
Paperback
August 2021 • ISBN 978-1-64453-224-9 • $46.95
* E-Book Available
Order Online
Series
Material Culture Perspectives
Taking cues from a wide variety of objects and their unusual circumstances, the essays that comprise Elusive Archives raise a common question: how do we study material culture when the objects of study are transient, evanescent, dispersed, or subjective, and as ethereal as distant memories? Such things would resist descriptive conventions and definitive value, scholarly or otherwise. Certainly, they would fall outside the taxonomic protocols that institutions, such as museums and archives, rely on to channel their acquisitions into meaningful collections.
What holds these disparate things together here are the questions the authors in this volume ask of them. Placed into relief through carefully calibrated inquiry, objects that appear incongruent, inscrutable, or otherwise indistinct suddenly cohere. Simply put, each essay in its own way creates by means of its method a provisional collection of things, an elusive archive. Scattered matter then becomes fixed, however momentarily, within each author's analytical framework rather than within the walls of an archive's reading room or arrayed in so many cases along a museum corridor.
With contingency itself underpinning them, the essays reverse the usual direction of scholarly inquiry by following the ways in which objects may be identified, gathered, arranged, conceptualized, and even displayed rather than by "discovering" artifacts in an ordered archive and then asking how they came to be there. The authors' prevailing focus on ephemerality rather than durability and preservation comes together to create a material culture vista outside the traditional bounds of learning about the past.
Given the diversity of objects under study here and their innumerable sites of discovery, the essays themselves are varied not only in their subject matter but also in their narrative format and conceptual reach. As such, Elusive Archives offers readers numerous points of entry, making it easy to navigate for a quick reference or, if read straight through, building bit by bit toward a new approach to thinking about how material culture challenges the way we write history today.
About the Editors
Martin Brückner is Director of the Winterthur Program in American Material Culture and Professor in the English Department at the University of Delaware. His books include The Social Life of Maps in America, 1750-1860 (2017), winner of the 2018 Fred B. Kniffen Book Award, International Society for Landscape, Place, & Material Culture, and The Geographic Revolution in Early America: Maps, Literacy, and National Identity (2006), winner of the 2007 Louis Gottschalk Book Prize in Eighteenth-Century Studies. Editor of two volumes, Early American Cartographies (2011) and American Literary Geographies: Spatial Practice and Cultural Production, 1500-1900 (2007; with Hsuan L. Hsu), he recently launched the digital humanities project, Thingstor.org (2019), a material culture database for finding objects in literature and visual art. He has received fellowships recognizing his work from the National Endowment of the Humanities, the Mellon Foundation, and the Program in Early American Economy and Society at the Library Company of Philadelphia.
Sandy Isenstadt is Professor and Chair of the Art History Department at the University of Delaware, where he teaches the history of modern architecture, concentrating on developments in Europe and the United States, but also including the global spread of modernism. His writings span post-World War II reformulations of modernism by émigré architects, urban planning rhetoric and visual strategies, histories of refrigerators, picture windows, landscape views, electrification and urban lighting, the history of shopping, consumer design and marketing, real estate appraisal, and the work of various modern and contemporary architects. His most recent book, Electric Light: An Architectural History (MIT Press, 2018), is the first sustained examination of the architectural spaces generated by the introduction of electric lighting. His work has been recognized with fellowships from the Institute for Advanced Study, in Princeton, New Jersey, the National Endowment for the Humanities, the Graham Foundation for Advanced Studies in the Fine Arts, and the Center for Advanced Study in the Visual Arts, in Washington, D.C.
Reviews of 'Elusive Archives: Material Culture Studies in Formation'
"
While there is important methodological guidance in this book…there is also a broader, and perhaps more contemporary, mission: to explore the 'archival turn' in recent humanities scholarship as it might apply to material culture, and tease out both the politics and poetics of considering objects as archives. This book also casts a far broader net in its definition of material culture, really encouraging readers to cast their analytical eyes on the world around them, with a belief that any element of any environment will reveal social, cultural, economic, and/or political meaning if only care and interpretation can be taken to tease it out.
"
- Marina Moskowitz, Lynn and Gary Mecklenburg Chair in Textiles, Material Culture, and Design, University of Wisconsin-Madison