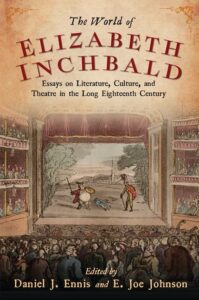 Editor(s)
Daniel J. Ennis
Editor(s)
E. Joe Johnson
Hardback
June 2022 • ISBN 9781644532577 • $120.00
Paperback
June 2022 • ISBN 9781644532560 • $42.95
* E-Book Available
Order Online
This collection centers on the remarkable life and career of the writer and actor Elizabeth Inchbald (1753–1821), active in Great Britain in the late eighteenth century. Inspired by the example of Inchbald's biographer, Annibel Jenkins (1918–2013), the contributors explore the broad historical and cultural context around Inchbald's life and work, with essays ranging from the Restoration to the nineteenth century. Ranging from visual culture, theater history, literary analyses and historical investigations, the essays not only present a fuller picture of cultural life in Great Britain in the long eighteenth century, but also reflect a range of disciplinary perspectives. The collection concludes with the final scholarly presentation of the late Professor Jenkins, a study of the eighteenth-century English newspaper The World (1753-1756).
About the Editors
Daniel J. Ennis is Provost and Vice President for Academic Affairs at Coastal Carolina University in Conway, South Carolina, where he has been a member of the English department since 1999. He has published on Richard Brinsley Sheridan, John Dryden, Aphra Behn, and Christopher Smart. This is his third co-edited collection.
E. Joe Johnson is a Professor of Foreign Languages at Clayton State University in Morrow, Georgia. A past president of the Southeastern American Society for Eighteenth-Century Studies, he is currently serving as the general editor of the society's annual journal XVIII New Perspectives on the Eighteenth Century. The author of one monograph and editor of four volumes, he has also published numerous translations of French comic books and graphic novels along with a co-translation of Camille Lebrun's 1845 novel Amitié et dévouement, ou Trois mois à la Louisiane.