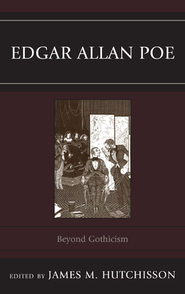 Editor(s)
James M. Hutchisson
Contributor(s)
Amy C. Branam, Dennis Eddings, Benjamin F. Fisher, Peter Goodwin, Kevin J. Hayes, James M. Hutchisson, Leon Jackson, John F. Jebb, Daniel Phillippon, Laura Saltz, C. T. Walters, Justin Wert
Hardback
August 2011 • ISBN 978-1611490688 • $91.00
Paperback
June 2013 • ISBN 978-1611494761 • $46.99
Order Online
Most frequently regarded as a writer of the supernatural, Poe was actually among the most versatile of American authors, writing social satire, comic hoaxes, mystery stories, science fiction, prose poems, literary criticism and theory, and even a play. As a journalist and editor, Poe was closely in touch with the social, political, and cultural trends of nineteenth-century America. Recent scholarship has linked Poe's imaginative writings to the historical realities of nineteenth-century America, including to science and technology, wars and politics, the cult of death and bereavement, and, most controversially, to slavery and stereotyped attitudes toward women.
Edgar Allan Poe: Beyond Gothicism presents a systematic approach to topical criticism of Poe, revealing a new portrait of Poe as an author who blended topics of intellectual and social importance and returned repeatedly to these ideas in different works and using different aesthetic strategies during his brief but highly productive career. Twelve essays point readers toward new ways of considering Poe's themes, techniques, and aesthetic preoccupations by looking at Poe in the context of landscapes, domestic interiors, slavery, prosody, Eastern cultures, optical sciences, Gothicism, and literary competitions, clubs, and reviewing.
About the Editor
James M. Hutchisson is professor of American and Southern literature and director of graduate study in English at the Citadel.