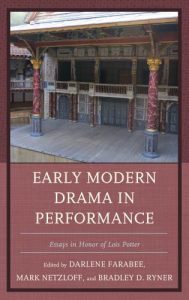 Editor(s)
Darlene Farabee, Mark Netzloff and Bradley D. Ryner
Contributor(s)
Andrew James Hartley, Zdenĕk Stříbrný, Evelyn Tribble, Virginia Mason Vaughan, Michèle Willems, Jay Halio, Arthur F. Kinney, Darlene Farabee, Alan C. Dessen, Ann Thompson, John O. Thompson, Peter Hyland and Roslyn L. Knutson
Hardback
November 2014 • ISBN 978-1611495126 • $86.00
* E-Book Available
Order Online
Early Modern Drama in Performance is a collection of essays in honor of Lois Potter, the distinguished author of five monographs, including most recently The Life of William Shakespeare (2012), and numerous articles, edited collections, and editions. This collection's emphasis on Shakespearean and early modern drama reflects the area for which Potter is most widely known, as a performance critic, editor, and literary scholar. The essays by a diverse group of scholars who have been influenced by Potter address recurring themes in her work: Shakespeare and non-Shakespearean early modern drama, performance history and theatre practice, theatrical performance across cultures, play reviewing, and playreading. What unifies them most, though, is that they carry on the spirit of Potter's work: her ability to meet a text, a performance, or a historical period on its own terms, to give scrupulous attention to specific details and elegantly show how these details generate larger meaning, and to recover and preserve the fleeting and the ephemeral.
About the Editors
Darlene Farabee is associate professor in the English Department at the University of South Dakota.
Mark Netzloff is associate professor of English at the University of Wisconsin-Milwaukee.
Bradley D. Ryner is associate professor of English at Arizona State University.