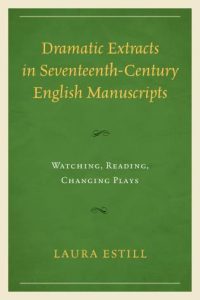 Author
Laura Estill
Hardback
January 2015 • ISBN 978-1-64453-045-0 • $102.95
Paperback
January 2015 • ISBN 978-1-64453-046-7 • $47.00
* E-Book Available
Order Online
Throughout the seventeenth century, early modern play readers and playgoers copied dramatic extracts (selections from plays and masques) into their commonplace books, verse miscellanies, diaries, and songbooks. Dramatic Extracts in Seventeenth-Century English Manuscripts: Watching, Reading, Changing Plays is the first to examine these often overlooked texts, which reveal what early modern audiences and readers took, literally and figuratively, from plays. As this under-examined archival evidence shows, play readers and playgoers viewed plays as malleable and modular texts to be altered, appropriated, and, most importantly, used. These records provide information that is not available in other forms about the popularity and importance of early modern plays, the reasons plays appealed to their audiences, and the ideas in plays that most interested audiences.
Tracing the course of dramatic extracting from the earliest stages in the 1590s, through the prolific manuscript circulation at the universities, to the closure and reopening of the theatres, Estill gathers these microhistories to create a comprehensive overview of seventeenth-century dramatic extracts and the culture of extracting from plays. Dramatic Extracts in Seventeenth-Century English Manuscripts: Watching, Reading, Changing Plays explores new archival evidence (from John Milton's signature to unpublished university plays) while also analyzing the popularity of perennial favorites such as Shakespeare's The Tempest. The study of dramatic extracts is the study of particulars: particular readers, particular manuscripts, particular plays or masques, particular historic moments. As D. F. McKenzie puts it, "different readers [bring] the text to life in different ways." By providing careful analyses of these rich source texts, this book shows how active play-viewing and play-reading (that is, extracting) ultimately led to changing the plays themselves, both through selecting and manipulating the extracts and positioning the plays in new contexts.
About the Author
Laura Estill is Associate Professor of English at St. Francis Xavier University.
Reviews of 'Dramatic Extracts in Seventeenth-Century English Manuscripts: Watching, Reading, Changing Plays'
"
The book should be of interest to students of Renaissance English drama as well as to students of textual studies and book history.
"
- Renaissance Quarterly
"
[…] the book zeroes in on a very specific cultural practice in order to offer an entirely new perspective on how plays make meaning.
"
- Studies in English Literature
"
The author's wide-ranging account makes an important contribution to the history of early modern reading and illuminates significant resources for future research. […] This fascinating study will be of interest to all those concerned with early modern theater, its reception, and the history of reading.
"
- Huntington Library Quarterly
"
It is an essential read for all scholars of Shakespearian and Restoration drama, and of early scribal and print cultures of England.
"
- SHARP
"
Laura Estill's new book enriches and extends scholarly interest in early modern reading practices and shows how those practices can help us understand dramatic texts of the era.
"
- Early Theatre
"
This crucially important book delivers what early modern reception studies needs most: more evidence. With its command of primary and secondary sources and resourceful case studies, it points the way for future scholarship and demonstrates how that scholarship can proceed.
"
- Review of English Studies