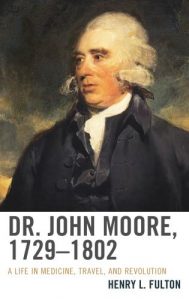 Author
Henry L. Fulton
Hardback
December 2014 • ISBN 978-1611494938 • $179.00
* E-Book Available
Order Online
This book is the first biography of Scottish-born physician John Moore. Here, Henry L. Fulton recounts Moore's childhood, education, and medical training in Glasgow and abroad; discusses his marriage, family, and friendships (particularly with Tobias Smollett); and depicts his professional practice in the north. The narrative uncovers Moore's transformative experience accompanying a young nobleman on the Grand Tour through Europe and provides a detailed account of the journey's highlights and difficulties. When Moore returns, he moves his family to London to begin a second career in literature and to acquire patronage for his sons' professions.
In this biography Fulton covers not only Moore's publications but also discusses his circle of friends among nobility, politicians, artists, and others. Also discussed is Moore's involvement in the French Revolution, his correspondence with Robert Burns, and his strained family relationships. Additionally presented here is new information regarding Moore's finances drawn from archival records in Glasgow and Edinburgh and his bank ledgers in London.
About the Author
Henry L. Fulton is professor emeritus at Central Michigan University.