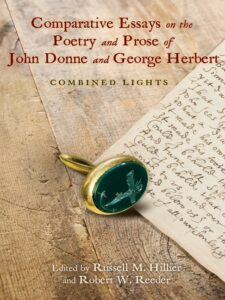 Editor(s)
Russell M. Hillier
Editor(s)
Robert W. Reeder
Hardback
October 2021 • ISBN 9781644532270 • $120.00
Paperback
October 2021 • ISBN 9781644532263 • $48.95
* E-Book Available
Order Online
This book brings together ten essays on John Donne and George Herbert composed by an international group of scholars. The volume represents the first collection of its kind to draw close connections between these two distinguished early modern thinkers and poets who are justly coupled because of their personal and artistic association. The contributors' distinctive new approaches and insights illuminate a variety of topics and fields while suggesting new directions that future study of Donne and Herbert might take. Some chapters explore concrete instances of collaboration or communication between Donne and Herbert, and others find fresh ways to contextualize the Donnean and Herbertian lyric, carefully setting the poetry alongside discourses of apophatic theology or early modern political theory, while still others link Herbert's verse to Donne's devotional prose. Several chapters establish specific theological and aesthetic grounds for comparison, considering Donne and Herbert's respective positions on religious assurance, comic sensibility, and virtuosity with poetic endings.
About the Editors
Russell M. Hillier is a Professor of English at Providence College in Rhode Island. He is the author of Milton's Messiah and Morality in Cormac McCarthy's Fiction: Souls at Hazard. He is currently working on projects on Shakespearean drama and Edmund Spenser's The Faerie Queene.
Robert W. Reeder is an Associate Professor of English at Providence College in Rhode Island. He has published articles on Donne and Shakespeare in Studies in English Literature 1500-1900, The John Donne Journal, Philological Quarterly, Renascence, and Early Modern Literary Studies.
Reviews of 'Comparative Essays on the Poetry and Prose of John Donne and George Herbert: Combined Lights'
"
Combined Lights elects to bring Donne home, in the company of George Herbert.
"
- Jonathan F.S. Post, University of California, Los Angeles