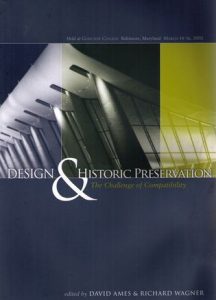 Editor(s)
David L. Ames and Richard Wagner
Hardback
February 2009 • ISBN 978-1611492347 • $84.99
Order Online
Design and Historic Preservation: The Challenge of Compatability addresses two questions central to design and historic preservation: what are the parameters of "compatability" in the design of additions to historic buildings and of new infill buildings in historic districts and landscapes. These papers, presented at the "Third National Forum on Historic Preservation Practice: A Critical Look at Design in Historic Preservation," were written by practicing and academic historic preservationists, architectural historians, architects, landscape architects, and engineers. Organized under the themes of "Melding Contemporary and Historic Design," "Design Standards in Changing Environments," "Modernism and Postmodernism in Preservation Design," and "Engineering and Preservation," issues of compatability are explored through diverse projects in locations across the United States.
About the Editors
David L. Ames is the director and cofounder of the Center for Historic Architecture and Design and coordinator of the graduate concentration in Historic Preservation in the Graduate School of Urban Affairs and Public Policy, University of Delaware.
Richard Wagner is founder and director of the Master of Arts in Historic Preservation program at Goucher College.