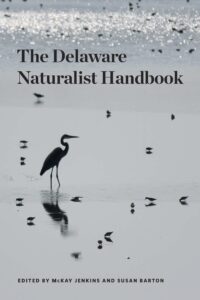 The Delaware Naturalist Handbook is the primary public face of a major university-led public educational outreach and community engagement initiative. This statewide master naturalist certification program is designed to train hundreds of citizen scientists, K–12 environmental educators, ecological restoration volunteers, and habitat managers each year. The initiative is conducted in collaboration with multiple disciplines at the University of Delaware, the University of Delaware Cooperative Extension, the Delaware Environmental Institute (DENIN), the state Department of Natural Resources and Environmental Conservation (DNREC), the state Division of Parks, the state Forest Service, the state Division of Fish and Wildlife, and local nonprofit educational institutions, including the Mount Cuba Center, the Delaware Nature Society and Ashland Nature Center, Delaware Wildlands, Northeast Climate Hub, Center for Inland Bays, and White Clay Creek State Park.
About the Editors
McKay Jenkins is Cornelius Tilghman Professor of English, Journalism, and Environmental Humanities at the University of Delaware and author of Food Fight: GMOs and the Future of the American Diet.
Susan Barton is an Extension Specialist and Professor in the Plant and Soil Sciences Department at the University of Delaware.
Reviews of 'The Delaware Naturalist Handbook'
"
In the very first chapter, McKay Jenkins lays out the case for becoming a Delaware master naturalist. Indeed, we need all the help we can get! By educating and training more people to become literate about Delaware's wildlife and wild places, The Delaware Naturalist Handbook will inspire more people to care and take action. This book will appeal to teachers, professional and amateur naturalists, environmentalists, and folks who just love exploring Delaware and care about the conservation of the state's wildlife.
"
- Jim Rapp, Director of the Hazel Outdoor Discovery Center, and Principal, Conservation Community Consulting