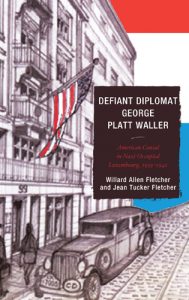 Author
George Platt Waller
Editor(s)
Willard Allen Fletcher and Jean Tucker Fletcher
Hardback
April 2012 • ISBN 978-1611493986 • $97.00
Paperback
March 2014 • ISBN 978-1611495010 • $46.99
* E-Book Available
Order Online
Drafted while events were fresh in his mind in 1942–1943, Alabama-born American diplomat George Platt Waller's memoir chronicles his war-time experience in the Grand Duchy of Luxembourg. In vivid prose, he recalls the outbreak of World War II in September 1939, the "Phony War," the German invasion of May 10, 1940, and the Wehrmacht occupation. Intimately involved with the political and public life of this small democratic nation, Waller did not follow Grand Duchess Charlotte and her government into exile. Instead, he remained as long as he could to witness and champion the Luxembourg people, doing his best to rescue the flood of refugees seeking visas and asylum in the United States. Waller bitterly condemns the Nazi civilian administration, its oppressive racial laws, and its attempts to annex the country to Germany under the banner of Heim ins Reich.
From his pivotal position as dean of the diplomatic community, representative of the powerful United States; and trusted confidant of leaders, executives, and citizens alike, Waller was privy to information from a wide range of sources: government, military, the church, the professions, the resistance, ordinary people, and refugees. He narrates gripping accounts of individual initiative and courage and exposes the many official hindrances to the timely rescue of refugees. His observations shed new light on life in Luxembourg from 1939 to 1941, when he was finally expelled from the country.
The editors' introduction places this brief but highly significant memoir in the context of Waller's family background, education, and career, including his dramatic return to Luxembourg at its liberation by American troops in 1944 and his participation in the Grand Duchy's postwar renaissance. Extensive annotations and photographs complement the text.
About the Editors
Willard Allen Fletcher is professor emeritus at the University of Delaware.
Jean Fletcher is a former librarian at university libraries in Arkansas, Pennsylvania, Vermont, and Delaware.