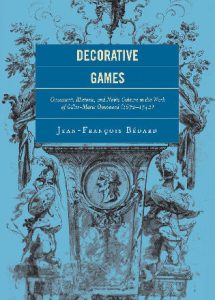 This book features an extraordinary album of ornament designs by the French architect Gilles-Marie Oppenord (1672-1742). In charge of the buildings and grounds of Philippe, duke of Orléans, regent of France during the minority of Louis XV, Oppenord was at the center of the architectural practice of his time. As made evident by this album, his consummate draftsmanship, praised by his contemporaries and coveted by collectors, exceeded by far the practical demands usually required of architects.
On a copy of the first French edition of Cesare Ripa's Iconologia, published by Jean Baudoin in 1636 with engravings by Jacques de Bié, Oppenord drew vignettes, head and tail pieces, borders and other ornamental motifs. For the first time, this publication reproduces Oppenord's album in its initial state. Today's reassembled and rebound album of sixty sheets bears little resemblance to Oppenord's original copy. A bibliographic analysis of the Ripa-Baudoin book, based on a copy kept at the Bibliothèque nationale de France, and confirmed by a previously unnoticed numbering by Oppenord, guided this first reconstitution. In lieu of a haphazard succession of sketches, it reveals Oppenord's fascinating interplay between text, engraved and drawn images.
About the Author
Jean-François Bédard is an Assistant Professor at Syracuse University.