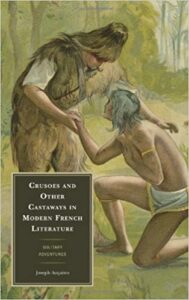 Author
Joseph Acquisto
Hardback
August 2012 • ISBN 978-1-64453-093-1 • $84.00
Paperback
August 2012 • ISBN 978-1-64453-094-8 • $43.00
* E-Book Available
Order Online
Crusoes and Other Castaways in Modern French Literature: Solitary Adventures by Joseph Acquisto examines the many ways in which the castaway, particularly in the form of engagement with Robinson Crusoe, has been reinterpreted and appropriated in nineteenth through twenty-first century French literature. The book is not merely a literary history of the robinsonnade in France; rather, Acquisto demonstrates how what he calls the genre of "solitary adventure" becomes a vehicle for exploration of much larger questions about the reception of texts, modes of reading, and the relationship between popular and serious literary traditions. The heart of Crusoes and Other Castaways in Modern French Literature examines a crucial moment in the late nineteenth and early twentieth centuries when the history of cultural perspectives on reading and solitude intersect, catalyzing a reconsideration of Defoe's tale. Acquisto's philosophically inflected readings of works by writers from Rousseau to Balzac, Verne to Gide, Valéry to Tournier enhance intertextual and cultural approaches to the castaway myth and broaden our appreciation of the dynamic relation it has to modern French literature writ large.
About the Author
Joseph Acquisto, PhD is an Associate Professor at the University of Vermont, specializing in nineteenth and twentieth century French literature.
Reviews of 'Crusoes and Other Castaways in Modern French Literature: Solitary Adventures'
"
Talented as both a generalist and specialist, Acquisto creates a compelling narrative of the transformation of Defoe's character into the introspective castaway he becomes throughout the twentieth century in France. The relevance of his project is unquestionable. […] I highly recommend it for readers at all stages–from undergraduate and graduate students to professors and researchers–as it is both accessible and extremely learned and is proficient in its synthesis of rather complex problems of genre and literary genealogy. This book is a significant one.
"
- H-France Review
"
In Crusoes and other Castaways Acquisto provides a well- written and intellectually-stimulating account of the Francophone world's enduring fascination with a cranky, unimaginative eccentric whose solitude nevertheless stimulated the imagination of many.
"
- Nineteenth-Century French Studies