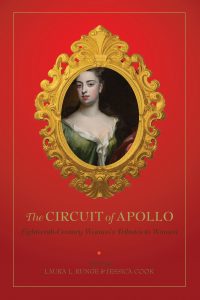 Editor(s)
Laura L. Runge and Jessica Cook
Hardback
May 2019 • ISBN 978-1-64453-003-0 • $70.00
Paperback
May 2019 • ISBN 978-1-64453-004-7 • $35.00
* E-Book Available
Order Online
Series
Early Modern Feminisms
The Circuit of Apollo is a book about early modern women's networks traced through affirmations of respect, admiration, love, and sometimes competition. It emerges out of the desire to highlight what relationships among women in the long eighteenth century tell us about the emotional lives and the creative work of women. The essays collected here attest to the vital practice of commemorating women's artistic and personal relationships and in doing so illuminate the complexity of female friendships and honor as well as the robust creativity and intellectual work contributed by women to early modern culture. The subjects of these essays cover nearly two hundred years of women's lives from the late seventeenth to the mid-nineteenth centuries. The geographical diversity of people represented and the span of time covered underscores the consistency of the practice of women's tributes to other women, even when it took the form of critical engagement. Essays trace the relationships between and among women such as Anne Finch, Mary, Lady Chudleigh, Jane Barker, Mary Barber, Eliza Haywood, Anna Barbauld, Anna Seward, Helen Maria Williams, and Ameila Opie, and closes with Betty Schellenberg's thoughtful afterword on women in the archive and the continued relevance of our work.
About the Editors
Laura L. Runge is Professor of English at the University of South Florida and the author of Teaching with the Norton Anthology of Literature by Women.
Jessica Cook teaches in the English department of the University of South Florida.
Reviews of 'The Circuit of Apollo: Eighteenth-Century Women's Tributes to Women'
"
The most significant contribution of this collection…is not repeating examples of supportive women writers' friendships but that these essays further develop the complexities, nuances, and tensions in female writers' relationships.
"
- Susan Staves, Brandeis University
"
The Circuit of Apollo is a jewel of a book...The volume combines intelligent collaboration, individual insight, and supple editorial guidance in the service of a scholarly mission that encompasses but goes beyond recovery, archival theorization, and intervention.
"
- Samara Cahill, Blinn College