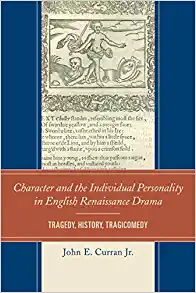 Author
John E. Curran, Jr.
Hardback
August 2014 • ISBN 978-1-64453-051-1 • $100.00
Paperback
August 2014 • ISBN 978-1-64453-052-8 • $45.00
* E-Book Available
Order Online
Character and the Individual Personality in English Renaissance Drama: Tragedy, History, Tragicomedy studies instantiations of the individualistic character in drama, Shakespearean and non-Shakespearean, and some of the Renaissance ideas allowing for and informing them. Setting aside such fraught questions as the history of Renaissance subjectivity and individualism on the one hand and Shakespearean exceptionalism on the other, we can find that in some plays, by a range of different authors and collaborators, a conception has been evidenced of who a particular person is, and has been used to drive the action. This evidence can take into account a number of internal and external factors that might differentiate a person, and can do so drawing on the intellectual context in a number of ways. Ideas with potential to emphasize the special over the general in envisioning the person might come from training in dialectic (thesis vs hypothesis) or in rhetoric (ethopoeia), from psychological frameworks (casuistry, humor theory, and their interpenetration), or from historiography (exemplarity). But though they depicted what we would call personality only intermittently, and with assumptions different from our own about personhood, dramatists sometimes made a priority of representing the workings of a specific mind: the patterns of thought and feeling that set a person off as that person and define that person singularly rather than categorically. Some individualistic characters can be shown to emerge where we do not expect, such as with Fletcherian personae like Amintor, Arbaces, and Montaigne of The Honest Man's Fortune; some are drawn by playwrights often uninterested in character, such as Chapman's Bussy D'Ambois, Jonson's Cicero, and Ford's Perkin Warbeck; and some appear in being constructed differently from others by the same author, as when Webster's Bosola is set in contrast to Flamineo, and Marlowe's Faustus is set against Barabas. But Shakespearean characters are also examined for the particular manner in which each troubles the categorical and exhibits a personality: Othello, Good Duke Humphrey, and Marc Antony.
About the Author
John E. Curran, Jr., is Professor of English at Marquette University.