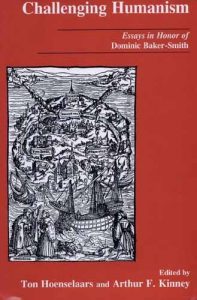 Editor(s)
Ton Hoenselaars and Arthur F. Kinney
Contributor(s)
Andrew Weiner, Elizabeth McCutcheon, and Germaine Warkentin
Hardback
December 2005 • ISBN 978-0874139204 • $105.00
Order Online
Dominic Baker-Smith has been a leading international authority on humanism for more than four decades, specializing in the works of Erasmus and Thomas More. The present collection of essays by colleagues throughout Europe, Canada, and the United States examines humanism in both its historic sixteenth-century meanings and applications and the humanist tradition in our own time, drawing on his work and that of scholars who have followed him.
Contributors
Andrew Weiner, Elizabeth McCutcheon, and Germaine Warkentin
About the Editors
Arthur F. Kinney is Thomas W. Copeland Professor of Literary History at the University of Massachusetts, Amherst.
Ton Hoenselaars is Associate Professor of English at the University of Utrecht.