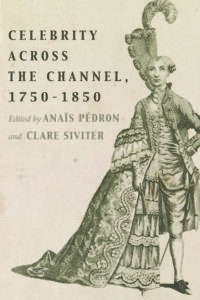 Editor(s)
Anaïs Pédron
Editor(s)
Clare Siviter
Hardback
July 2021 • ISBN 978-1-64453-212-6 • $120.00
Paperback
July 2021 • ISBN 978-1-64453-213-3 • $34.95
* E-Book Available
Order Online
Series
Performing Celebrity
This edited volume is the first to study and compare the concept of celebrity in France and Britain from 1750 to 1850, as the two countries transformed into the states we recognize today. It offers a transnational perspective by placing French and British scholarship from the field of celebrity studies in dialogue, especially by engaging with Antoine Lilti's seminal French-language work, The Invention of Celebrity, which was translated into English in 2017. With contributions from a diverse range of scholarly perspectives, the volume has a firmly interdisciplinary scope over the time period examined, which was an era marked by social, political, and cultural upheaval. Bringing together such fields as history, politics, literature, theater studies, and musicology, the essays cover celebrities from royalty to adventurers and philosophers, and explores celebrity on micro and macro levels, from the vibrant world of the theater to the emerging field of science. The careful ordering of chapters allows for new readings of the similarities and differences in the understanding of celebrity in Britain and France. Consequently, the volume builds upon the questions that are currently at the heart of celebrity studies and offers the first truly comparative analysis of celebrity across the Channel from 1750 to 1850, initiating a productive dialogue across disciplines.
About the Editors
Anaïs Pédron is an independent scholar based in London. She has studied at the Universities of Angers, Poitiers, and Nantes, and at Queen Mary University of London. She is widely interested in gender, female activism, literature, and sexuality. Pédron has published on female writers and activism in the eighteenth century in both English and French. She has recently published the article "'Nous aussi nous sommes citoyennes': Female Activism during the French Revolution" in Women in French Studies (Special Issue 2019), and the chapter "Olympe de Gouges, anti-esclavagiste et anticolonialiste?" in Les Lumières, l'esclavage et l'idéologie coloniale: XVIIIe – XIXe siècle, ed. Pascale Pellerin (Paris: Classiques Garnier, 2020).
Clare Siviter is a theater historian of the longer French Revolutionary period and is lecturer in French Theatre at the University of Bristol. Before joining Bristol, she completed a PhD at the University of Warwick before taking up a post-doctoral position at the Centre d'Histoire Espaces et Cultures at the Université Clermont Auvergne, France. Siviter has published on French theater and culture of the late eighteenth and early nineteenth centuries in both English and French. Her monograph, Tragedy and Nation in the Age of Napoleon appeared with Oxford University Studies in the Enlightenment in 2020. Siviter is a member of the editorial board for Modern and Contemporary France.