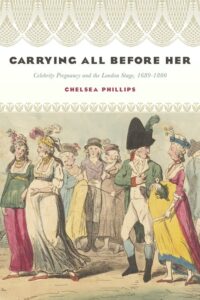 Author
Chelsea Phillips
Hardback
January 2022 • ISBN 9781644532492 • $120.00
Paperback
January 2022 • ISBN 9781644532485 • $34.95
* E-Book Available
Order Online
Series
Performing Celebrity
The rise of celebrity stage actresses in the long eighteenth century created a class of women who worked in the public sphere while facing considerable scrutiny about their offstage lives. Such powerful celebrity women used the cultural and affective significance of their reproductive bodies to leverage audience support and interest to advance their careers, and eighteenth-century London patent theatres even capitalized on their pregnancies. Carrying All Before Her uses the reproductive histories of six celebrity women (Susanna Mountfort Verbruggen, Anne Oldfield, Susannah Cibber, George Anne Bellamy, Sarah Siddons, and Dorothy Jordan) to demonstrate that pregnancy affected celebrity identity, impacted audience reception and interpretation of performance, changed company repertory and altered company hierarchy, influenced the development and performance of new plays, and had substantial economic consequences for both women and the companies for which they worked. Deepening the fields of celebrity, theatre, and women's studies, as well as social and medical histories, Phillips reveals an untapped history whose relevance and impact persists today.
About the Author
Chelsea Phillips is an Associate Professor of Theatre at Villanova University in Pennsylvania.
Reviews of 'Carrying All Before Her: Celebrity Pregnancy and the London Stage, 1689-1800'
"
Phillips's most significant contribution is her move to focus on the gravid body and its realities as well as significance(s), something both earlier histories of actresses and cultural histories of maternity have shied away from. The book's dialogues and echoes across and between different case studies – and with our own time – are significant for eighteenth-century, celebrity, and theatre studies.
"
- Elaine McGirr, University of Bristol
"
Carrying All Before Her is a timely call to reconsider our assumptions about pregnancy—historical and current—and its impact on professional performers...Pregnancy, childbirth, and the negotiation of a career in acting are still poorly understood, and Phillips' fascinating book is an important contribution that takes us back to the very beginnings of female acting.
"
- Georgina Lock, Nottingham Trent University
"
This is an important contribution to the field of actress-studies and eighteenth-century theatre histories.... Pregnancy is very much a key ground which needs to be covered as part of the next stage of the recovery of women's histories in theatre. As Phillips recognizes, a number of assumptions have been made, for many years, about the experience of the pregnant actress. In this study these are, for the first time, overturned.
"
- Helen E. M. Brooks, University of Kent
"
Carrying All Before Her puts actresses' own experiences center stage not just to reframe but to completely reorient the way we think about women's stage careers.... Phillips's book is pioneering in its approach to women's history. This work is important not just for those engaged in actress studies but for anyone setting out to explore the social and economic histories of cultural production and gender history.
"
- Jennifer Buckley, University of Galway
"
Chelsea Phillips's book makes a real and original contribution to our understanding of the ways pregnancy—as embodied experience—"'mattered in and beyond the theater'" ... It serves as a crucial intervention that expands our understanding of theatrical culture and raises important questions about the influence of pregnant celebrity actresses whose performance, status, and commodification conveyed ideas about the reproductive to a significant portion of the public at large.
"
- Nora Nachumi, Yeshiva University