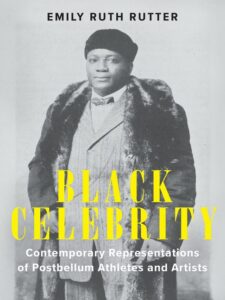 Author
Emily Ruth Rutter
Hardback
November 2021 • ISBN 9781644532454 • $130.00
Paperback
November 2021 • ISBN 9781644532447 • $34.95
* E-Book Available
Order Online
Series
Performing Celebrity
Black Celebrity examines representations of postbellum black athletes and artist-entertainers by novelists Caryl Phillips and Jeffery Renard Allen and poets Kevin Young, Frank X Walker, Adrian Matejka, and Tyehimba Jess. Inhabiting the perspectives of boxer Jack Johnson and musicians "Blind Tom" Wiggins and Sissieretta Jones, along with several others, these writers retrain readers' attention away from athletes' and entertainers' overdetermined bodies and toward their complex inner lives. Phillips, Allen, Young, Walker, Matejka, and Jess especially plumb the emotional archive of desire, anxiety, pain, and defiance engendered by the racial hypervisibility and depersonalization that has long characterized black stardom. In the process, these novelists and poets and, in turn, the present book revise understandings of black celebrity history while evincing the through-lines between the postbellum era and our own time.
About the Author
Emily Ruth Rutter is an Associate Professor of English at Ball State University in Muncie, Indiana. She is the author of Invisible Ball of Dreams: Literary Representations of Baseball behind the Color Line and The Blues Muse: Race, Gender, and Musical Celebrity in American Poetry, as well as co-editor of Revisiting the Elegy in the Black Lives Matter Era.
Reviews of 'Black Celebrity: Contemporary Representations of Postbellum Athletes and Artists'
"
Over the course of Black Celebrity Rutter effectively connects the creative representations of postbellum athletes and artists such as Jack Johnson, Thomas Greene Wiggins, and the McKoy sisters with the experiences of Black athletes and artists of more recent times, from athletes such as Muhammad Ali, Kareem Abdul-Jabbar, and Tiger Woods to artists such as Beyoncé, Lil Naz X, and Donald Glover. Rutter's ability to weave textual and cultural analysis into her examination of these literary texts makes her one of today's most important scholars of sport literature and popular culture.
"
- Philip Wedge, University of Kansas
"
Black Celebrity: Contemporary Representations of Postbellum Athletes and Artists provides compelling roadmaps for studies of Black celebrity within multiple cultural arenas and across eras. This study opens doors for others to engage in further scholarly excavations and to help agitate against and "transform" the "uncomfortable truths" (195) about bias toward Black celebrities that imaginative Black authors (and Rutter) are exposing.
Her brilliant critical tapestry, which shows persuasively why literary fascination with postbellum Black celebrities emerged simultaneously to facile proclamations of a post-racial America, thus proffers literary and sociological frameworks for understanding both that era and our own.
"
- Laura Vrana, University of South Alabama