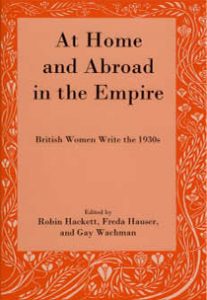 Editor(s)
Robin Hackett, Freda Hauser and Gay Wachman
Hardback
January 2009 • ISBN 978-1611491050 • $87.00
Order Online
This book builds upon critical reevaluations of modernism and British literature of the 1930s with a simultaneous focus on discourses of race, gender, and empire. The essays direct attention to the complications and ambivalence accumulating around the meanings of Englishness. They reject analyses of texts as chronicles of personal psychological development in favor of analyses that assume texts are shaped by their authors' public intellectual involvement. In addition, they offer detailed, specific explorations of ways in which British women in the 1930s narrativize empire and war. Thus they will resonate with significance for readers in the early twenty-first century for women empire and war, as well as terror and security, are part of the discourse of everyday life.
About the Editors
Robin Hackett is an Associate Professor of English at the University of New Hampshire.
Freda S. Hauser is an independent scholar.
Gay Wachman is retired from the State University of New York-Old Westbury.