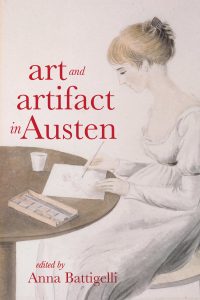 Editor(s)
Anna Battigelli
Hardback
March 2020 • ISBN 978-1-64453-174-7 • $75.00
Paperback
March 2020 • ISBN 978-1-64453-175-4 • $37.50
* E-Book Available
Order Online
Jane Austen distinguished herself with genius in literature, but she was immersed in all of the arts. Austen loved dancing, played the piano proficiently, meticulously transcribed piano scores, attended concerts and art exhibits, read broadly, wrote poems, sat for portraits by her sister Cassandra, and performed in theatricals. For her, art functioned as a social bond, solidifying her engagement with community and offering order. And yet Austen's hold on readers' imaginations owes a debt to the omnipresent threat of disorder that often stems—ironically—from her characters' socially disruptive artistic sensibilities and skill. Drawing from a wealth of recent historicist and materialist Austen scholarship, this timely work explores Austen's ironic use of art and artifact to probe selfhood, alienation, isolation, and community in ways that defy simple labels and acknowledge the complexity of Austen's thought.
About the Editor
Anna Battigelli is Professor of English at SUNY Plattsburgh and the author of Margaret Cavendish and the Exiles of the Mind.
Reviews of 'Art and Artifact in Austen'
"
This book, with twelve essays by emerging and well-known Austen scholars, makes a persuasive case for Jane Austen's deep and fruitful immersion in the arts and material culture of her day. It is an excellent book, offering new insights into all manner of art, music, and theatre in Austen's life and in her fiction.
"
- Devoney Looser, Arizona State University, author of The Making of Jane Austen
"
The essays in this volume offer glimpses of the way a materialist approach can offer new readings of a single canonical author, gesturing toward a range of possible deep dives into both Austen and Romantic-era material culture.
"
- Kristin Flieger Samuelian, George Mason University
"
The greatest accolade I can offer is my desire to sit down immediately and read it all again.
"
- Maggie Land, author of Jane Austen's World