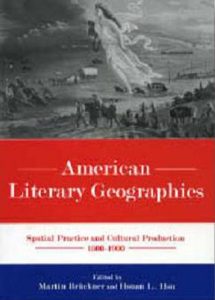 Editor(s)
Martin Brückner and Hsuan L. Hsu
Hardback
July 2007 • ISBN 978-1611493184 • $110.00
Order Online
This interdisciplinary collection of essays explores intersections between geography and American literary history from the earliest geographic chronicles of the New World to the massive geopolitical imaginings of the 1890s. By foregrounding the unsteady nature of geographical boundaries, the physical and imaginary migrations that coexisted with literary nationalism, and the changing attitudes toward geographical settings, the essays in American Literary Geographies present textual, theoretical, and contextual alternatives to existing exceptionalist accounts of U.S. culture. Beginning with studies of the establishment of names, borders, and jurisdictions, the collection builds toward materialist readings of literary settings illuminated by maps, surveying tracts, travelogues, sailors' epitaphs, and various forms of racialized or gendered mobility. The focus on the literary and geographical discourse addresses more than social and political developments like imperialism, regionalism, and tourism; rather, this volume seeks to supplement literary histories by emphasizing spatial over temporal strategies as the organizing principle for telling the story of American literature.
About the Editors
Martin Brückner is Associate Professor of English and Material Culture studies at the University of Delaware.
Hsuan L. Hsu teaches American literature at Yale University.