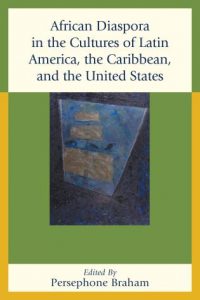 Editor(s)
Persephone Braham
Contributor(s)
Paulina Alberto, Eddie Chambers, Monica Dominguez Torres, Colette Gaiter, Carla Guerron Montero, Carol E. Henderson, Camara Holloway, Wayne G. Marshall, Julie L. McGee, Robin D. Moore, Ifeoma Nwankwo, Phillip Penix-Tadsen and Lorrin Thomas
Hardback
December 2014 • ISBN 978-1611495379 • $87.00
Paperback
December 2016 • ISBN 978-1611495393 • $41.99
* E-Book Available
Order Online
Scholars of the African Americas are sometimes segregated from one another by region or period, by language, or by discipline. Bringing together essays on fashion, the visual arts, film, literature, and history, this volume shows how our understanding of the African diaspora in the Americas can be enriched by crossing disciplinary boundaries to recontextualize images, words, and thoughts as part of a much greater whole.
Diaspora describes dispersion, but also the seeding, sowing, or scattering of spores that take root and grow, maturing and adapting within new environments. The examples of diasporic cultural production explored in this volume reflect on loss and dispersal, but they also constitute expansive and dynamic intellectual and artistic production, neither wholly African nor wholly American (in the hemispheric sense), whose resonance deeply inflects all of the Americas. African Diaspora in the Cultures of Latin America, the Caribbean, and the United States represents a call for multidisciplinary, collaborative and complex approaches to the subject of the African diaspora.
About the Editor
Persephone Braham is associate professor of Spanish and Latin American studies at the University of Delaware.