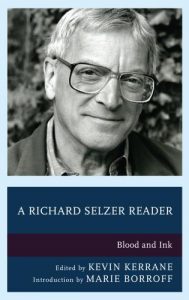 Editor(s)
Kevin Kerrane
Hardback
July 2017 • ISBN 978-1611496420 • $110.00
* E-Book Available
Order Online
A Richard Selzer Reader: Blood and Ink is a career-spanning collection, including major short stories and essays by the renowned doctor-author. In the 1960s, while practicing as a general surgeon and teaching surgery at the Yale School of Medicine, Richard Selzer began publishing unique creative work in magazines such as Harper's and Esquire. By 1985, when he retired as a physician to devote himself completely to writing, Selzer was already recognized as a pioneer in the field of medical humanities. When he died in 2016, as the author of 13 books, his influence was acknowledged by a younger generation of doctor-writers like Abraham Verghese and Atul Gawande.
Selzer's unusual style fuses scientific and poetic language. Drawing on favorite readings, from the King James Bible to the tales of Edgar Allen Poe, he used this style to convey a sense of awe at the beauty and complexity of the human body, even in the midst of suffering. Because he often looked critically at the failure of doctors to regard the full humanity of their patients, Selzer's work has become required reading in many medical training programs.
A Richard Selzer Reader includes several of the author's most famous essays and stories, as well as two dozen selections that have not been collected in his previous books. Chronologically, the material ranges from apprenticeship stories (as far back as a high-school composition) to two odd self-portraits that remained unpublished at the time of Selzer's death. Along the way, Selzer celebrates the work of other doctor-writers, like Thomas Browne and Anton Chekhov, and in a series of previously unpublished diary entries he discusses the joys of nature, art, and family as bulwarks against the difficulties of growing old.
About the Editor
Kevin Kerrane is professor of English at University of Delaware.