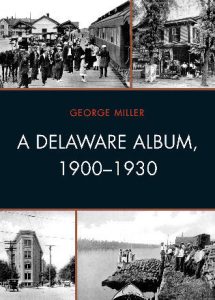 A Delaware Album, 1900-1930 contains over 300 postcard photographs from the entire state taken during the period from 1900 to 1930. Arranged by subjects—City and Town Views; Delaware Beaches; Amusements; Industry and Agriculture; Signs of the Times; Trains, Trolleys, and Automobiles; Water Transportation; Schools; Religion; Businesses; Hotels and Motels—each photo has a caption ranging from a sentence or two to several paragraphs. The book's introduction details how the cards were produced, analyzes the subject matter depicted on the cards, documents the history of several of the most prominent local photographers in the state whose work is found almost only on postcards, and traces the evolution and popularization of postcard photography.
Through the photographs readers can witness the development of Delaware agriculture and fisheries, the expansion of the railroad into southern Delaware, the declining days of steamship service on Delaware rivers and creeks, the fate of Middletown's last trolley, Delaware's unsuccessful campaign against "King Alcohol." They can see how Delawareans worshipped, worked, and shopped. They can visit local amusement parks and beaches from New Castle County to Sussex County.
At the turn of the twentieth century the world was figuratively smaller, more isolated, and provincial for all Americans. Obviously there was no television or radio, no magazines filled with photographs. Telephones were just beginning to appear in homes and even then you could only call someone who was served by the same company. Daily travel was by horse and buggy over unpaved roads. For ordinary Americans, a vacation might mean a trip to a local amusement park or a nearby beach or a day trip on a river in a steamer. Travel, "seeing the sights," was a new and novel concept. Newspapers did not contain photographs; amateur photography and the developing and printing of film required considerable chemical skills. It was in part this isolation and the hunger for visual images that fed the rise of the picture postcard—not just in the United States, but throughout the world.
For the early decades of the twentieth century the postcard recorded every aspect of American life. As local historians will tell you, the photographic record of small town America during the period from 1900 to 1930 exists almost only on postcards. That is why historical societies, libraries, and museums have begun to amass postcard collections. In the last twenty years, historians and scholars have increasingly turned to the postcard as a way of seeing what our past literally looked like—what we enjoyed doing, where we worked and played, how we viewed one other, what we thought was important, and what prejudices we held.
About the Author
George Miller is professor of English at the University of Delaware and a former chair of the Department. Miller has collected and written about Delaware postcards for several decades, edited a Delaware historical society newsletter, and lectured throughout the state on Delaware history and postcards through the Delaware Humanities Forum.